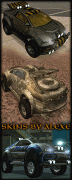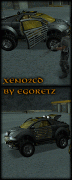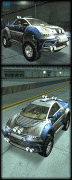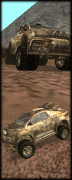 XENO skins by ALEXE for the Xeno2 CD 8.2s XL SE v1.0 by SuperMotoXL and EgoretZ
***
original vehicle download:
Xeno 2 CD by EgoretZ
***
Description : Complete graphic overhaul of the Xeno in 3 versions.
Body map with alpha channels. Most textures in .txd have been reworked:
interior, rims, tires, window, etc.
Done'em camouflage, rusty, dirty, worn out, grungy, decaying, chopped (transparent doors) and worse.
***
===Special Thanks to:===
SuperMotoXL for the model!
EgoretZ for the convert and doing a fantastic job on it!
Adobe for Photoshop CS2 and its utilities.
Piohh of GTA-Worldmods.de for friendship and hosting the car and my paintjobs!
Big Thanks to Kel, Kotton, Wired and everybody else at Ascendence.Net
Alien City
Developers lead by DENISka on GTAMaps.net for the inspiration from
the great Total Conversion in which these skins fit perfectly!
Thanks to the support and understanding of:
Outbreak File #3 forums (
http://outbreakfile3.user-board.net/index.htm
) by BeeswaX,
CarbonGear portal&forums (
http://carbongear.1forum.biz/
) with EZE & SharanT,
GTA Sheiks forums (
http://gtasheiks.18.forumer.com/
) from Aboodilatif,
GTA-Action portal (
http://GTA-Action.planet-multiplayer.de
) of SPYFAN
and everybody else who's supported me so far.
Holla at ya boy!

***
DOWNLOAD:
@ GTA-Inside
@ CarbonGear
@ GTAmaps.net News Page